Posted: 10/17/2012 11:18 am
Little Sara Kruzan killed her trafficker when she was 16 years old.
Sara's aunt, Anne Catherine Rogan, speaks eloquently of her niece, now 34 years old. As this tall regal woman unfolds a tale of suffering and heroism larger than life, the courage of a child offers an epic inspiration felt around the world.
SARA'S STORY
Despite a childhood fraught with abuse, Sara's path initially held promise. She trimmed roses with her elderly neighbor, ran track, and won a young author's award for her book on the effects of drugs. An honor student from the age of 9, Sara ran for student body president when she was eleven.
Eleven years old. If you know a little eleven year old girl, you know how the youth and fragility of that age. Sara was
eleven
the year she met 31-year-old G.G. Howard. Fatherly skating trips first earned her trust then shifted toward an air of seduction, new clothes, and jewelry. The process, called "grooming," escalated.
When she was thirteen, he raped her. "A lovely girl like you should never give sex away for free," he told her as he took her to the streets. Twelve hour nights, seven days a week, Sara, along with other young girls under G.G. Howard's control, was sold for sex. She was the "merchandise," part of the "inventory," and the source of a significant "profit" for her trafficker.
One day, a rival "pimp" gave her a sinister choice: She must kill G.G. Howard, or he would murder her mother. By saving her mother, she could escape the horrors of the past five years. So, just after her 16th birthday, Sara Kruzan shot and killed G.G. Howard. With that decision, she bartered one terrifying journey for another.
Some temper their response while others applaud and cheer. Good for her! He deserved it! We wonder what choice we would have made, and how it must be to live such a story by the age of 16. But for Sara, the act that promised liberation in an otherwise horrifying tale twisted her journey into a new darkness.
Sara was tried as an adult, convicted of the murder of G.G. Howard, and began serving her sentence: life without parole plus four years. The rival trafficker was not charged.
In January, 2011, outgoing Governor Arnold Schwarzenegger reduced her sentence to 25 years to life with the possibility of parole. Having served almost 18 years in prison, she will be eligible for parole in eight years. This, for a crime committed by a child, beaten, raped, and sold as a prostitute for years, and a case marked by a shoddy defense.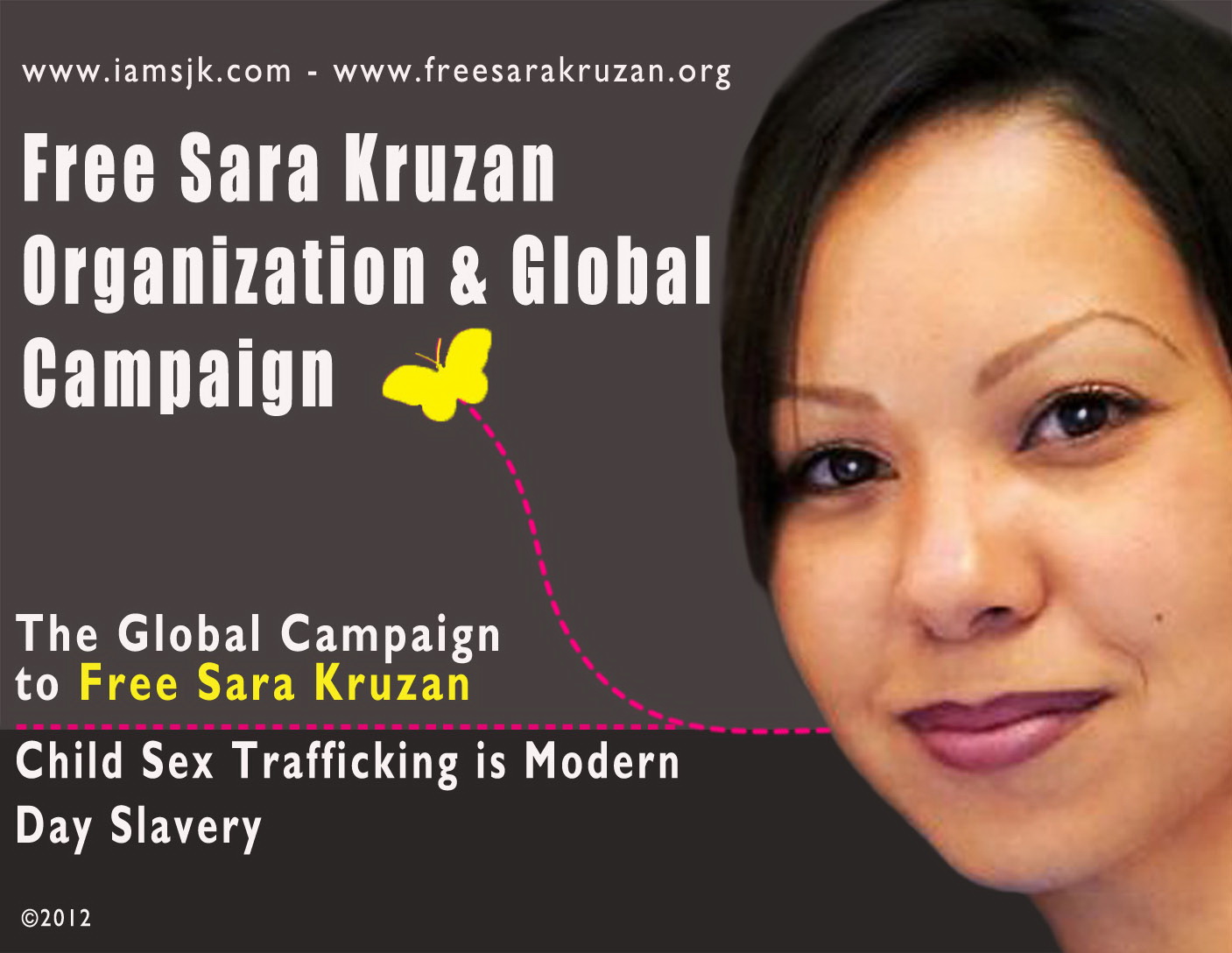 CURRENT EFFORTS TO FREE SARA KRUZAN
This week, the
Dr. Phil show
taped interviews with Anne Rogan, Sara's mother, actress
Mira Sorveno (who starred in the movies Human Trafficking, and Trail of Innocents),
Senator Leland Yee
, and other key players in Sara's story.
The program will air on October 17, 2012 on CBS.

On October 18, the day following the Dr. Phil Show interviews, Riverside County District Attorney Paul Zellerbach will make his recommendation to the Riverside Criminal Justice system. Sara and her supporters wait anxiously, for Zellerbach may take one of three options: immediate release under time served; retrial; or a pre-trial to determine whether a new trial is in order.
The path to Sara's release seems strangely fraught with obstacles. The DA's office has requested
back-to-back extensions on two appeals
seeking to stop Sara's release. "We have decided to let the criminal justice system runs its course," John Hall, a DA spokesman, answered in response to inquiries regarding their rationale. "This is an old and complicated case," Hall says. "The prosecutor who tried the original case is no longer with the office. We had to review some 18 years' worth of documents, including her petition, volumes of exhibits, transcripts, motions and appellate decisions in this matter."
SUPPORTING SARA KRUZAN
Sara's aunt, Anne Rogan, fights every day for Sara's release, reminding us that her young niece, though trapped in a life of pain and injustice, has resumed that long-ago path on which she trimmed roses, excelled as an honor student, and showed promise as an emerging leader among her student peers.
Today, Sara is a woman for whom tens of thousands will fight until she's freed. Jada Pinkett-Smith's organization
"Don't Sell Bodies"
joins
Carissa Phelps
, attorney, survivor advocate, and author of
Runaway Girl: Escaping Life on the Streets One Helping Hand at a Time
(Viking 2012) in calling for Sara's immediate release.
Phelps believes, as do many survivors of child sex trafficking, that Sara's freedom will help put an end to child sex trafficking in the United States. She writes,
Sara was a child when she fought back for her life. Her subsequent arrest and sentencing was a cruel and unusual punishment for a child that had been held against her will and sold repeatedly to strangers. Sara has become a model citizen. She understands the desperation of teens trapped in sexual slavery, and fights tirelessly for solutions. Upon her release I anticipate Sara doing great work for the movement against child sex trafficking.
Kim Deanne, Sara's former cellmate, promised Sara she would fight for her release, and her voice is determined as she works with others across the miles who champion Sara's cause. From Carrie Christie in San Diego, to Jessica in Boston, to others in Canada and the UK, teams of Sara Kruzan supporters work the Internet, soliciting signatures for petitions, organizing rallies, and encouraging complete strangers to write or phone California representatives in support of Sara.
Juggling their own families and careers, a community of friends now supports Sara Kruzan, though most have never met. They fall asleep together on the phone, thinking of new ways to bring awareness to Sara's plight. "One of our members describes us as joined by an "invisible thread," says Carrie Christie.
Indeed, over 40,000 people have signed petitions and joined in the efforts to free Sara Kruzan. They are students, housewives, CEOs and celebrities from every corner and walk of life. Anne Rogan and other Sara supporters speak to anyone who might feel a burden on their heart to help free Sara Kruzan. Each day, those people speak to someone else, and the movement spreads.
With each telling of the story of Sara Kruzan, the courage of this amazing young woman inspires others to lift their hearts and pens, to rally, and to shine a light not only for Sara, but for all victims of human trafficking. We join as necessary partners in their journey.
Together, through the following actions, we will free Sara Kruzan.
_____________________________________________________________________________
YOUTUBE:
Please, watch
Sara tell her story
.
FACEBOOK:
Join the Facebook group
"Free Sara Kruzan"
and
"Sara Kruzan - Join Forces for her Freedom"
Tell others, and share a link to this story on your own Facebook page. Check out the
Facebook event page.

TWITTER:
Follow @freesarakruzan and join the conversation at #FreeSaraKruzan
RIVERSIDE COUNTY OFFICIALS:
Contact ALL of
Riverside County by phone, email, and social media
. Call and Email all the Riverside elected officials offices and ask to leave a message for them on behalf of Sara Kruzan.
Call AND email Riverside DA Paul Zellerbach ask him to grant Sara Kruzan time served! Phone (951) 955-5400 and email pzellerbach@rivcoda.org.
"Free Sara Kruzan Organization & Global Campaign" websites:
www.iamsjk.com
and
www.freesarakruzan.org
offer actions for every day of the week, from Mailbox Mondays and Twitter Tuesdays, to Free Sara Fridays. Supporters can show their support and be a voice for Sara. Endorsing a letter is fast and easy. Simply click to
print the letter, sign and mail!
Join the latest campaign for Sara, the OCCUPY JUSTICE: Free Sara Kruzan, Campaign for Freedom.

_______________________________________________________________________________
Dr. Susan Travis is Executive Director of NM Organized Against Trafficking Humans. To report suspected human trafficking activity, the national hotline at 1-888-3737-888. To participate in anti-human trafficking advocacy projects, email Dr. Travis at healthyworld@nm-oath.org.